Eric Thor Egland
Web Maintenance Person
UCSB Hydrocarbon Seeps Project
2000 MA Geological Sciences, UC Santa Barbara
1995 BS Geological Sciences, UC Santa Cruz
Member GSA, AGU, Sierra Club.
I enjoy working with computers, data, and multimedia while conducting geologic and oceanographic research.
I enjoy kayaking, guitar, remodeling, history of electrical wiring, photography, pond water life, and geology.
Please feel free to contact me with any comments about our seeps page.
mail: etegland@cwo.com (please include subject word "seeps")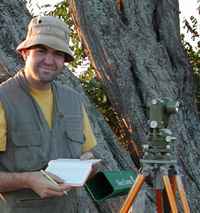 Picture of myself with Wild T1A Theodolite surveying the UCSB nail line at Nyland Ranch.


"'How many UCSC students does it take to screw in a light bulb? - It takes 10 and they all share the experience."